I'm finding new and fun blogs on the daily thanks to these linkups throughout the week. Between working full time and the whole parenting thing, these linkups make it easy for me to come up with actual blog posts. Whether or not these posts offer anything of actual value has yet to be determined. In the meantime...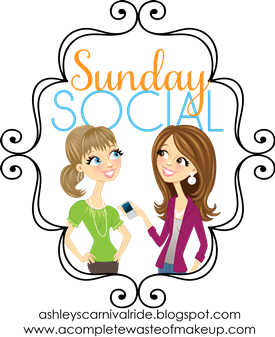 // What is your favorite fall activity? \\
It's always fun to get together with our friends and watch a little football. Most Saturdays in the fall we're getting together with a small group to each munchies and drink a cold one while cheering for our favorite teams. This year G gets to be a part of it and so far I think she's lovin' it too.
// Do you follow a football team? If so, which one and why? \\
We are a house divided. I went to college at the University of Nebraska so I'm a Husker at heart. I'm a bad fan though and don't follow it as closely as I should. My husband is a die-hard Oklahoma Sooners fan and we must watch every single game and we must cheer loudly or else the world as we know it will end! Boomer Sooner!
Sorry for the duplicate picture but she's such a cute little sooner.
// What is something fun about fall in your area? \\
Ok, we've lived in the Kansas City area for 5 years now and I'm embarrassed to say we have yet to really "experience" Kansas City. There are so many things around here that we should really go do. One thing that is fall-ish is the Plaza Art Fair every September. It always falls the weekend of my birthday and makes for a fun time. Vendors and artists set up shop down on the plaza - we go walk around and people watch.
// What are your favorite fall staple outfits? \\
Leggings and boots. I was pregnant last fall/winter and wanted to wear leggings and boots so often that it became unacceptable to wear the same thing so many days in a row. But it was so comfy and cozy. And I was all pregnant and stuff so I didn't care. This year I'm not pregnant but I'm pretty sure that won't stop me. I will still try and wear leggings and boots every day of my life.
// What things are you looking forward to most about this coming fall season? \\
Gracyn's first Halloween. She can help us hand out candy to the neighborhood kids and maybe we'll take her around the block to trick-or-treat a little bit too. I've been looking at costumes but haven't decided what she'll be yet.... maybe and
elephant
or
pumpkin
or this...
scary.
Ok, probably not the woopie cushion but that would be funny. No matter what, she'll look adorbs.
// What is your favorite fall holiday? Tradition? \\
Does my birthday count as a holiday? No? Probably Thanksgiving then. Love me some Turkey Day. Family and food and all that jazz. And that means we get to put up the Christmas tree the next day which is my favorite.
Now, time for a nap on this hotter than hot Sunday...
To find blogs that are awesomer than mine, check out more
here
.